xXGeneral InformationXx
Picture:
Name:
Uvaras
Alias:
L
Visual/Suggested Age:
15
Actual Age:
80
Gender:
Male
Looks:
He has a brown hair and blue eyes. He wears a short shirt with two sides having different colours. He has an armor on his right shoulder and wearing a long dark pants. He wears a rubber bracelet at his right hand's wrist. Wearing dark and grey shoes and a heart shape necklace on his chest connected to his clothing.
Division:
A member of Squad 8th division
xXPersonal InformationXx
Personality:
Uvaras has a mature and kind personality. He usually helps people and hates being annoyed. He acts on his own and never wanted someone he cares about to get hurt. He couldn't reject any offer because he would feel bad about it. He never pays attention in class but his natural talent helps him to catch up swiftly with lessons. He rarely has friends but he doesn't really cared. Usually he sleeps during classes and he hates being annoyed. When people annoyed him he usually walks away or just pretending to listen. He's habituated hated by people this makes him to follow what he thinks.
Likes:
Sleeping
Dislikes:
Being annoyed
Code:
He lives for what he thinks or feel which is right.
History:
He has been living in West of Rukongai for sometime now and he had been living with his family. He cares about his family but then one day, he feels something strange as things progressed in his life. Things changed when a shnigami was in his district. Children had to step back from him because of his reiatsu. Uvaras just stood close to him without feeling much from him. He doesn't listen or do what he is told to do unless he thinks or feel it is right.
A few days passed and children could feel intense reiatsu from him. They all never got closed to him because of his reiatsu. He had lived alone and tried to help the people in the village but in the end, he ended up all alone. Only his sister kept on cheering him and teaches him the outside world. Then soon, his sister was sent to the academy, living him alone with his parents and brother.
He had been fighting with his brother after his sister left. He was the youngest and his sister and brother were twins. After the next year, Uvaras's parents died and his brother applied to the academy. Now he was left alone and wondering if he could achieved what his sister did. He had admired his sister from the way she talked and teaching him. A few days passed, the same shinigami who he met found him. After feeling Uvaras's reiatsu, he was sent to the Shino academy to become stronger and to control his reiatsu. He had finally achieved what he wanted and hoping to meet his sister someday. He went to classes each day and was always top in class. He was sent to Class#1 and continued to work his way up.
Years after, he graduated early even though his younger than the rest and he was sent to the 8th division.
Family:
Sister - Location: Unknown , Brother - Location: Unknown
Loyalties:
He is loyal to his sister.
Personal Items:
None
xXStatisticsXx
Battles:
Fights Won:Fights Lost:
Missions Completed:
The total number of missions this character has completed
Successful:
The number of successful missions this character has completed. Include titles.
Failures:
The number of missions this character has failed. Include titles.
Level: 50
Basic stats:
Stamina:
55/200
Power:
70/200
Speed:
100 /200
Reiatsu:
100 /200
Total:
325
Sub Stats:
Zanjutsu Skill:
50 /100
Zanpaktou Mastery:
50 /100
Kido Intelligence:
50 /100
Shunpo Speed:
50 /100
Total:
200
xXTechniquesXx
Kidou:
Hadou:
~Hadou 4: Byakurai
~Hado 33: Sōkatsui (Blue Fire, Crash Down)
~Hado 48: Gaki Rekkō (Raging Light Fang)
~Hado 1: Shō (Thrust)
~Hado 32: Ōkasen (Yellow Fire Flash)
~Hado 31: Shakkahō (Shot of Red Fire)
~Hado 11: Tsuzuri Raiden (Bound Lightning)
Bakudou:
~Bakudo 44: Sekisho (Barrier)
~Bakudo 39: Enkosen (Arc Shield)
~Bakudo 1: Sai (Restrain)
~Bakudo 30: Shisotsu Sansen (Piercing Triple Beam)
~Bakudo 37: Tsuriboshi (Suspending Star)
~Bakudo 21: Sekienton (Red Smoke Escape)
~Bakudo 8: Seki (Repulse)
~Bakudo 4: Hanaiwa (Crawling Rope)
~Bakudo 26: Kyokko (Curved Light)
~Bakudo 9: Geki (Strike)
Custom Kidou:
None
Custom Techniques:
None
xXZanpaktouXx
Zanpaktou Name:
Shitsunen and Meiyaku
Zanpaktou Meaning:
Oblivion and OathKeeper
Zanpaktou Spirit:
Shitsunen:
Meiyaku:
Zanpaktou Realm:
(Both lives in this place)
Zanpakuto Type:
Shitsunen: Dark
Meiyaku: Light
Zanpakuto Shikai Release Form:
Shikai Abilities:
~Moon Slash - Surrounds Shitsunen with dark powers and divine power to Meiyaku. It increases the power of the sword and Uvaras fades away into a dark portal behind him which will come out at the same time with the power channeling through the sword. Then Uvaras comes out behind the enemy and slashing he/she once causing intense damage. (After the slash, the power will fades away)
[15 SP cost]
Zanpakuto Bankai Release Form: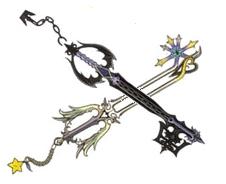 ~Limit Break - Boosts the speed and reiatsu. Increases the power of all powers in Shikai and can be changed into a power that gathers to his hand and fires a dark energy blast. [Speed increase by 15][Shunpo increase by - 10][Time Limit 7 Post] - [50 SP Cost][Recharge - 2 Turns]
~Hybrid Wings - Having wings and one side having light wing and another is a dark wing. This boosts the speed of Uvaras. [Boost speed by 10]
~X blade - Charging the two Zanpaktou and each sword has its element. UIvarase rushes at his opponent and slashes at them quicker than the blink of an eye, causing intense damage if not repelled, making a "X" on the opponent's body. [ 35 SP Cost]
xXRoleplay SampleXx
(Erm..I'll do an arrancar sample...)
Uvaras came to the forest of Menos to do some training. The last time he remembered, he barely beat a Menos. This time, he would be training and become an arrancar. He wanted to be stronger since his an imperfect arrancar.
As Uvaras arrived at the Forest of Menos, he sensed lots of Gillians. He looked around and saw lots of Gillians in front of him. Uvaras charged towards the Gillians and knowing that they were no match for him, he just used his bare hands and legs. Uvaras cleared all of the Gillians quickly and tried to find Menos. As he walked, he sensed a familir reiatsu and followed it. Once he reached his destination, he saw lots of Menos at the area. Luckily Uvaras was hidden, he hid near a huge rock and wondered if he could defeat all of them. He heard that since he became an imperfect arrancar, his reiatsu should have increased.
Uvaras wanted to test his new power so he exposed himself to the Menos. All of the Menos turned to him but he quickly used Sonido and damage them with his hand. It didn't seems to have any effect. The Menos started to shoot cero, Uvaras was moving quickly and barely dodging all of them. The Menos didn't give him any chance to counter attack, all he could do was run and blocking the ceros. He then remembered what they told him when he became an imperfect arrancar. He could released his sword once his an arrancar. Uvaras didn't want to lose his life now, he wanted to become strong. He concentrated all of his reiatsu to his sword. As he was taking it out, the spirit pressure increased a vast amount.
One of the Menos shot its Cero and Uvaras used his sword to block it. It worked out fine for Uvaras, he didn't take any damage at all. As soon as the cero stopped, the other Menos started to shoot out Cero. Uvaras tried to counterattack and was able to kill some. It took three to five strikes to take down one Menos. Though it looks hard, it wasn't as bad as it was. He had enough speed to cut them as quickly and much as possible. He had been training like this for past few hours and he was able to become stronger. Afterward, he went to take a rest and wanted to train the next day.